Description
.
Russian Army Military Russian Army Military Gas Mask new filter type ABEKPD Universal made 2016 year .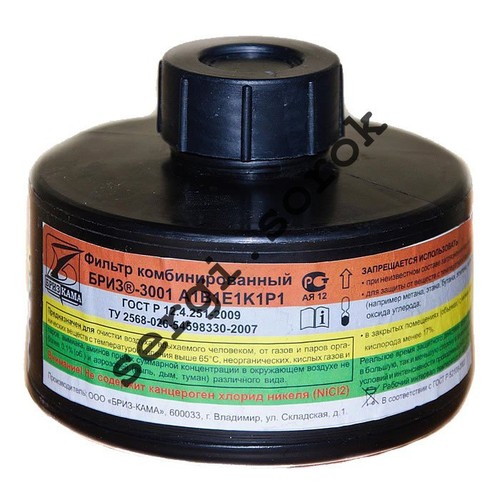 Russian Army Military Gas Mask new filter type ABEKPD Universal with a certificate made 2014 year.
This new filter is designed to protect the respiratory system , skin and organs of vision from harmful impurities in the form of dust , smoke and fog. Operates at temperatures from -40 to +50 C ° and a relative humidity of up to 95%..
Russian Army Military Gas Mask filter ABEKPD fit any filtering and absorbing box with standard threaded connection M 40 (including all the boxes to the civil and military gas masks Soviet and Russian production) and some masks NATO.
Russian Army Military Russian Army Military Gas Mask Filter type ABEKPD Universal new using masks provided good audibility and intelligibility .
Application: from the substances of neuroparalytic action (type sarin, hydrocyanic, radionuclidess, iodine methyl and also low-boiling organic substances, such as methane, ethane, butane, acetylene, benzol and etc
Filter type ABEKPD
Universal includes
A, B, K, Е
substances
possible be chpise for work with any substances(Against
Bensene, Ammonia, Chlorine, Sulphur and their constituents and gases).
Standard filter type A complete set protects from steams of organic compounds (petrol, kerosene, acetone, benzol and his homologucs, bisulphid and other), dust, smoke, fog.

Russian Army Military Gas Mask GP-9 Filter original – a device for breathing in an elevated background. Could break if the injuries of the protagonist. Artem issued in the armory at the beginning of the game (ENEA), subsequently found in abundance and everywhere.


Mask with filter it can not throw off the to 12 hours.
This military filter is designed for extended use and is NOT a one-time throw away. This model of mask also features an exhale valve which is protected from damage by a covering.The functionality is same and independent from colour of main material.
New Filter type ABEKPD Universal 2016 year with certificate 1x


Original bag 1x
I hope that I have knowingly spent Your time and could interest You and You want to buy from me this and other items.
Payment
I accept PayPal.
Payment must be received within 7 days after the auction is closed.
I request you NOT to bid / buy if you are not sure of paying for it.
If you cannot make payment within 7 days, please message me through Ebay Messages for a 2 day after auction closed.
Shipping
I

shipping

all items to Worldwide.
I shipping items within 2 working days after receiving clearly payment (excluding holidays, weekends, etc).
You can ask me to send within two working days.
You can save Your money if You buy more then one item.

I

Shipping via International Air Mail. Posted from Europe, Ukraine, Kiev.
Delivery takes as usual 10-21 business days to UK,USA if not delayed by the Customs / Mail in the country of destination.
POSTAGE MIGHT TAKE SHORTER OR LONGER SOMETIMES IN MOST CASES ITEMS WILL BE POSTED SAME OR NEXT DAY AFTER PAYMENT .
Returning
If you not pleased, item must be returned and I refund full item value, except shipping. Refund shipping will be paid by buyer. I will refund the purchase price (minus all shipping costs) after that, as I will receive returned item. Returned item must be received in the original box, packing, completeness and condition.
Thank You for looking/bidding/buying!!! 🙂